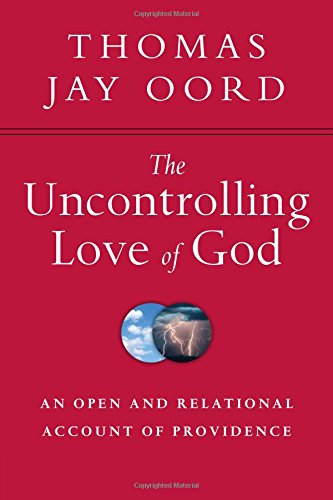 Not everyone enjoys what I enjoy, but read this book and of course you will love it! Oord is one of the leading 'relational theologians' and this is the first book of his I have read. It is well written and easy to read – I read it right through in a few hours. I have been heavily influenced by Open Theology, ever since having a connection with YWAM and the teaching of Gordon Olson, then the works of Clark Pinnock and Greg Boyd (and… and…), and of course the main sticking point for those who come in the opposite direction is that of 'but God has absolute foreknowledge of all things'.
Oord begins with a strong defence of Open Theology, that the future is not predetermined in terms of its details, and is defensive of 'accidents' as being 'accidents' and not part of some 'mystery'. I have never been comfortable with the inevitable (sorry for the illustration) that the drowning of tens of thousands in the Med is part of God's allowed (or predetermined) plan that we do not understand, so his full-on attack of such explanations resonated strongly. Nothing new in that area but his breadth of apologetic was appreciated.
He, however, moves beyond some Open Theologians (he uses John Sanders as his dialogue partner in this) where he posits that we have to understand God kenotically. God is not to be understood as sovereign in the sense of 'all-powerful' but his government is one of self-emptying love. This to me, of course in resonance with Roger Mitchell's works, was where the book became very exciting and provocative. The 'core' of God's being kenotic – from this a position that he cannot act differently other than to pour Godself out. For many Open Theologians freedom is before love… but Oord seems to reverse this. God is love, he creates and gives freedom to creation.
In a very real sense – and here is where I am most exercised – God cannot 'do' certain things in this world. He needs our co-operation. Now then 'come on intercession', stand in the gap, act as a conduit for change from heaven to earth.
An easy read, harder to process the implications. I probably need to read it again to let it get deeper under my skin as (a very important area) it could really provoke also some fresh thinking on the atonement, prayer and miracles.
PS: For those who advocate 'God is all powerful' this always has to be qualified with what that means. He cannot make a four-sided triangle, a stone heavier than he can lift (logical fallacies), through to moral issues – 'he cannot deny himself'. The 'but God is all-powerful' is not a good fall-back position as it is at best a theoretical position. Hence, for all, other than the real extremists the omnipotence of God will always need to be a qualified position.
PPS: Link to Thomas Jay Oord's website.