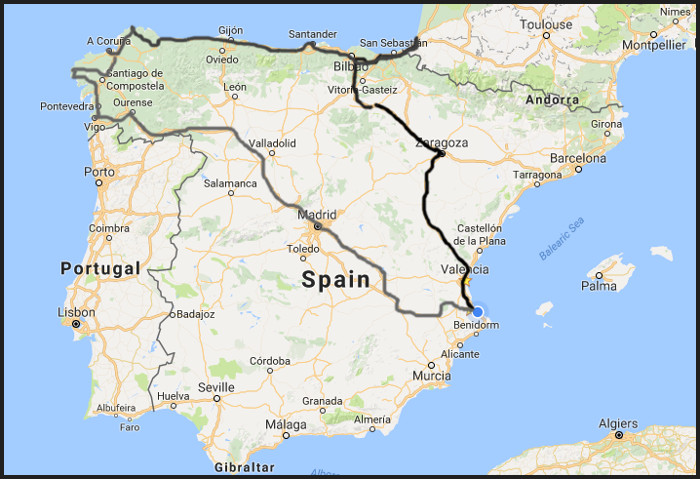 The above map is our main drive that we took leaving the East Coast on August 25th and returning 6th September. We stopped off at some key places en route, and meandered a lot(!) covering in total some 4000 kms (2.5k miles). The last few days we stayed in Vigo, Galicia on the West Coast, stopping one night in Madrid before dropping off some paintings at a gallery in the centre of Madrid (don't ask how we ended up doing this… but all a part of friendship…), then home. Always good to come home but the time away was just awesome. A little insight first (and an aside in reality) but we had the name of 'Jose' to drop the paintings to. Now how many Joses are there in Spain I hear you ask? So just beyond the Prada Museum in morning rush hour we find the approximate address – a back door on one of the main streets. We pull round into the street, security guards and police in evidence. Gayle has window down – 'Jose?' she shouts. Then we spot the real Jose 100 metres further up the street waving. 'Lo siento…' Gayle says, we drive on, now no option but to cross the bus lane, park in the bike lane and overlap the bus lane. Jump out. 'Jose?'. 'Si'… Seven paintings all wrapped up over the rail, into the black back door. Security guards now moving up the street. Jump back in and home!! Maybe an appropriate way to end our time – there is a huge back story behind why we did that, but enough that life is an adventure for now.
We had so many highlights. The north west – Asturias and Galicia – are Celtic lands. We carried with us a Celtic book of prayers and they seemed so powerful each day. Without the Gospel of course the Celtic lands of Europe resort to superstition, religion and the occult. We even encountered a small village called San Lourenzo complete with chapel one day on 'a how many bends does this road have' drive.
Perhaps though the two big highlights were getting to the most northerly and the most westerly points of mainland Spain on consecutive days. We have been praying for the past year that Spain will be stretched out so this was amazing places to pray. Spain has been contracting in the sense that everything is pulled to the centre (Madrid) and this is presenting a lock up scenario. When I finally get to recording the couple of videos on the generations and how life flows I will try and explain our journey a little more about the contraction of Spain.
On the West we went to A Coruña. A few years back I had a waking vision of a man lying back down across Spain. His head on Bibao (north and the language area of Euskadi), his right arm on A Coruña (west and language area of Gallego), his left arm on Barcelona (and language area of Catalan), his right ankle over Cádiz where we were living at the time, left ankle over Malaga, with the lower centre of his back over Madrid. We have now been to the north twice to pray for new thinking (the head), and feel we hit that in a big way last year. Barcelona we have been to, but the main place where we felt we needed to get to was A Coruña to free the right arm. This is the arm of blessing, and although it is all figurative, were very keen to get there. We found the city very dominating, imposing, not releasing a freedom. Anyway those are good places to have a bit of a battle. And so we did.
So what about travelling with San Lorenzo? We encountered the history of this saint (martyred 258AD, August 10) when in Madrid around 18 months ago. We felt a deep connection due to how we were led to the church named after him and the obvious connection of his death being on my birthday. Subsequent to that we went one year ago to Huesca where he was born. While there we had a real struggle to break through, but left the city with a vision to be more mobile and to go where the wind blows our 'coracle' to pray across Spain and indeed Europe, to connect with those who feel, and maybe are, in Exile. So we subsequently bought a small van (una furgoneta in Spanish)… It is our mobile accommodation, our coracle of the road. So as we travelled we had no plans, we came to the most northerly points and westerly by 'accident'. We have affectionately named it 'el furgo de San Lorenzo' and will probably put it as a logo on the van – a good talking point?
Over the time we have lived in Oliva – way too quiet for us!! – we have gained new strength, there has been an impartation of youthfulness to us both. Although since 2011 we have been headed to Madrid, and will be there again from Friday this week, and wonder how much longer do we wait, we also realised while travelling that we went to Huesca, the birthplace of San Lorenzo, with the belief that it would open up Madrid to us, but left there knowing we had to be more mobile. So maybe, just maybe we have to occupy the mobile space more before we make our Madrid entry.
Timing with God counts for so much. Patience is apparently being able to pray 'and Lord take as long as you wish on this'. Immediately after being in Huesca we were sent two apartments right opposite San Lorenzo's church. Not happened before nor since. We know things are 'rattling' but the timing?
Here then a few photos:
Although not a fan of buildings, this one in the Lavapies area of Madrid is highly significant for us: dedicated to San Lorenzo.
Home for us… aka known as 'El furgo de San Lorenzo', or 'Our coracle'. Not huge but who would want anything more:
Follow the GPS, to the north!!
At the north we prayed by this old tree, and deposited there an acorn we picked up a year ago from Guernica.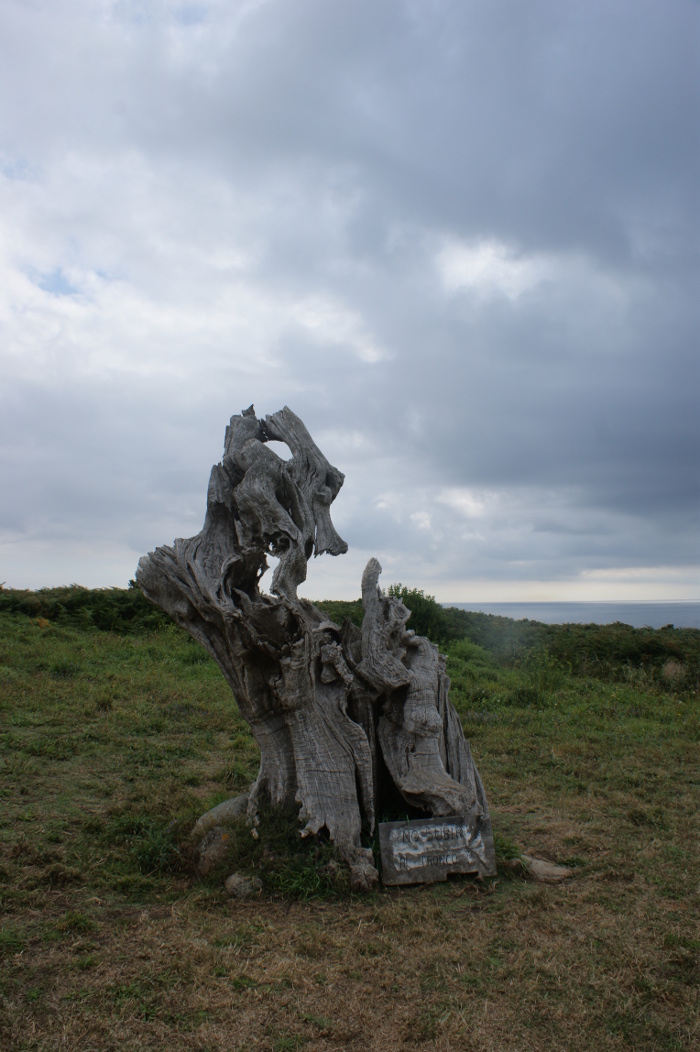 Beauty and no crowds. The north of Spain and off the beaten track. A place of refreshment:
","post_title": "Travel with San Lorenzo","post_category": 0,"post_excerpt": "We left the East Coast on August 25th and returned 6th September, stopping off at some key places en route, covering in total some 4000 kms (2.5k miles). The last few days we stayed in Vigo, Galicia on the West Coast, stopping one night in Madrid before dropping off some paintings at a gallery in the centre of Madrid (don't ask how we ended up doing this… but all a part of friendship…), then home.