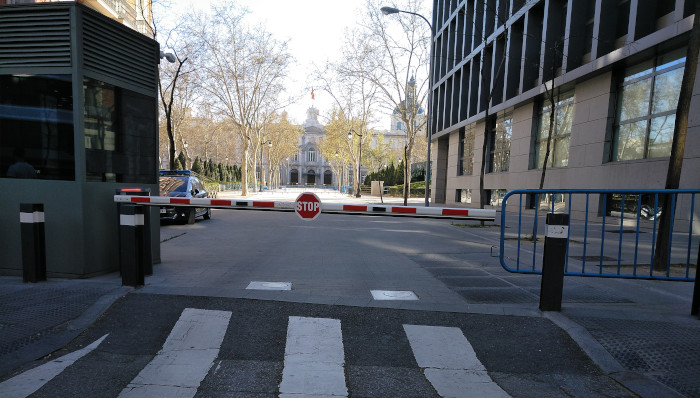 Yesterday Gayle and I were out and about. First a visit to the Supreme Court, though the security is high and we were unable to get right to the building. It has been this way ever since the beginning of the trial of 12 Catalans for their role in the 'illegal' referendum concerning independence. We have been there before on two separate occasions and were there to pray into two aspects – the trial and also the delay on the removal of Franco's remains from the Valley of the Fallen. A June date has been set for the latter but there still is an appeal lodged in the Supreme Court. The judiciary has been a focus for us as it is vital a judiciary is not bought nor controlled by a political wing, and here in Spain there is long way to go on that issue.
Of course I have an opinion on Catalan independence but being neither Spanish nor living in the Catalan comunidad it has to remain as an opinion without weight. Our huge respect is for those who are seeking to be a bridge and call for open dialogue. The experience of those who are bridges is they are then trodden on from both sides, that being what a bridge offers. To help us pray Michael Schiffmann sent us some direction that we had to release three groups of people so that what needs to take place will flow in a healthy direction. (This is a joy to us. For those following these posts will realise that our theology is that the church has the responsibility to ensure that the shape in which things can be expressed in society is a healthy space where hostile powers have limited access. This does not mean only good things will happen – free will see to that! – but it does ensure a healthy space.)
The three groups at this time we see, and this will have a wider application than just Spain are: women, students and pensioners. This is a day for women… and again I have to be careful what I write for obvious reasons. I am slowly becoming aware that ignorant pontificating is not wise! Let me simply say women when embodying the feminine aspects of God; students, whether in formal education or not, but who are seeking to learn about their world and how to pull for the future; and pensioners, who in Spain have lived through and seen so much; those three groups are vital – and I think in that order. Those three we called for and for the Supreme Court to hear the threefold testimony of wisdom calling out from the street.
From the Supreme Court we dropped in a cafe and found ourselves sitting among a group of right wing extremists. Not our normal habitat, but both in need of a toilet and a refreshment having been out for a while already this was the place where we happened to drop in! Dressed in semi-militaristic style clothing the atmosphere was interesting to say the least. Then we went and stood in and by the Catalan demonstration. Incredibly moving as the songs were sung and banners that appealed for justice for the non-violent prisoners facing up to 25 years for rebellion and insurrection in organising the referendum.
The demonstration itself, brave as it was with many from Cataluña in the capital, might not move things forward. It might even push people further away. We certainly saw some blatant antagonism to the march, including a very well dressed older woman walking the other way to the marchers and giving them the finger while sneering at them. The march itself had people of all ages and estimates of numbers vary, but I would suggest in excess of 50,000 and perhaps as many as 80,000. It might not make a difference but we were both so happy to stand in it and get a feel for it. The card in the image that follows was given to us by an older woman (pensioner?) and the spirit of it embodied in the last words 'a hug' is what is needed from and to all 'sides'.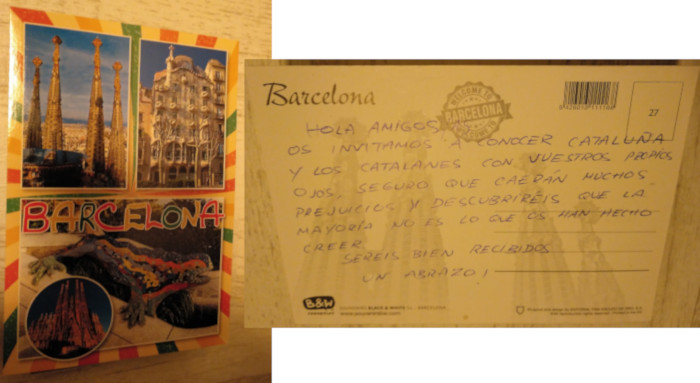 The text written in Castellano and not Catalan says:
Hello friends. We invite you to know Cataluña and Catalans with your own eyes. I am sure that many prejudices will drop away and you will discover that the majority is not what you have believed. You will be well received. An embrace.