Spiritual powers – what are they? are they territorial? how to address / not address them? And the answers come back across a great spectrum. They are personal, highly organised and hierarchical… to they don't exist or they are simply the inner nature of exterior structures. I try and hold some kind of composite view concerning the powers and because I see a strong connection of what has / is repeated in history as shaping the spiritual nature of a geography, whether the terminology could be better or not, I subscribe to the reality of the powers expressing themselves territorially. Experience also seems to suggest this, with specific expression of issues being present in one geography that are not present in another. The above might be theoretical, but the issues we face are practical. Theory gets us so far, and our theories might be wrong, and at one level I am less concerned about the theory, and much more concerned about what we do practically to get a shift.
For example there are theories about 'ley-lines'. When we first moved to Spain we lived in a somewhat challenging apartment. We moved in on Jan. 1, 2009. Jan 2nd, at 8.00am a knock came to the door. It was the agent through whom we had rented the apartment. 'I cannot leave you here. I have not slept well and I will find you another place.' We though were convinced that it was the right place, so re-assured him that we were happy. It was not too long before we recognised a straight line of some 8 obvious troublesome symbols or places that crossed right through our apartment. I am happy to call that a 'ley-line'. The language is not so important, getting a shift is important. Within 6 months the first (to our knowledge) in Spain of a monument honouring Francoist assassins was removed. It was on that line and about 800 metres from our apartment. It was quickly followed by the removal of Francoist symbols from the next monument (500 metres from the apartment). We had some sleepless nights, but for sure it was the right place.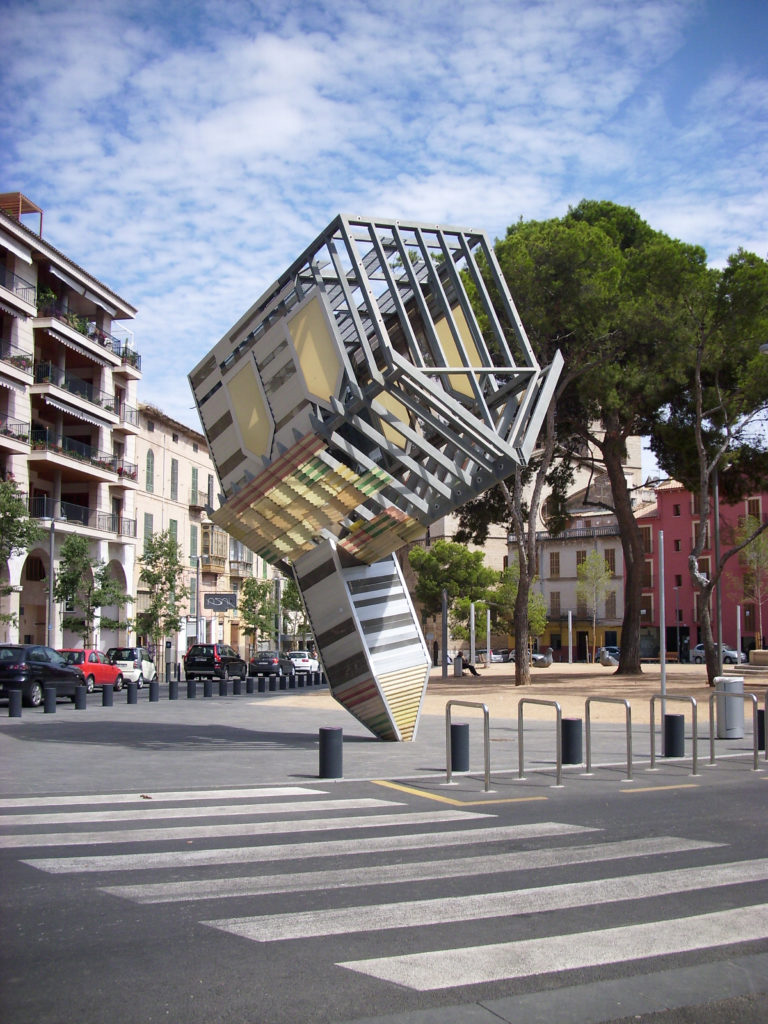 What did we do to get a shift? I am sure that research, prayer and all of that made a difference. Maybe, and always there is a 'of course', it would have happened anyway. And a big help was another statue right on the same line, a statue of an upside-down church building, which the sculptor had named as 'the device to root out evil'. As far as we understand it the sculptor was neither making a positive nor negative statement about faith, but chose the church as the symbol in society as a powerful in your face image of how society has to be upturned to shift history from repeating itself and toward releasing a new future. For us it was incredibly symbolic. Let God embed the church in the ground for the world, let a worldly way of structuring things be turned on its head and then let's see how much shifts in society.
Anyway back to Ephesus. There are territorial parallels there. Artemis worshipped across Asia Minor (Acts 19:27); the word of the Lord being heard by all in the same territory (Acts 19:10). I suggest that in some way Artemis had been bound across that region thus releasing to the same region the message of the Gospel. (By 'bind' I consider that the biblical understanding is along the lines of restriction, not of elimination.) The resistance had been broken and a release came as a result. So what did Paul and his merry band of 'about 12' plus others do? One of the genius elements of Scripture is its silence. It is not a book of instruction on what to do, otherwise we would likely do what it says and completely miss what it was saying. Instruction has to come from heaven in accord with Scripture rather than simply from words on a page. In short we don't know what Paul did! Maybe he found the highest point in Ephesus and addressed the power directly. Maybe he taught for days on how such an approach only leads to casualties and this was entering into forbidden / unwise territory. Point is – we have to work out what we do and when…
Something though shifted. Maybe we have made claims of something shifting when nothing really has changed, but in the case in Ephesus something had shifted. Miracles, hearing, burning of occult literature – all those suggest something had shifted. But for me the biggest evidence was the turmoil over economics. I consider the biggest shift is when there is a shift to the economy. IT IS THE ECONOMY, STUPID, might be a political shorthand phrase to indicate how and why people vote, but it is also a phrase indicating that there has been a shift spiritually.
A 'prospering' economy is not a sign of the advance of the kingdom, but an economy where there is a flow of resources to where it needs to go is a sign of righteousness. Ranging from the 8th century prophets who used such phrases as 'cows of Bashan' to critique the inequalities that had developed in Israel over the previous 200 years, to the awesome critique in Revelation of the one-directional flow of wealth to the elite, seems to be the constant beat of Scripture.
Acts 19 and Ephesus is a strong paradigm for anywhere, and yet almost totally absent of a '10 steps to success' program to be followed. I simply suggest that we seek to follow what the Lord shows us (or our discernment of it) without too much concern that we get it right. That we will find something close to home that is the 'leverage point' to shift something much bigger. Interestingly as we seek to move the politics of Spain (and again do not think 'political party' when the word politics is used) and gain an entrance to Madrid, it will be important where we locate and the size of the place… As we seek this entry a word we have been given is 'I see you both and you are climbing up a sewage pipe into Madrid, against the flow of the sewage… sorry messy but has to be done.' Guess what happens soon after? The sewage pipe in our block of apartments has gone, and we are out of our apartment as we have no water, no toilets, no showers… Coincidence? Maybe, but this so often happens where a sign of what needs to change occurs close to home. That is the leverage point needed. Temporarily not in 'our' home (and what does 'our' mean?), and the sewage, and smell of it has to be shifted out of the apartment / society. God bless the upside down sculptures.