Jesus was a friend of 'sinners' and for that we should be grateful, otherwise what hope was and is there for us. The other day I thought I wonder if he really was a friend of sinners, for it was not something he claimed for himself but what was said about him:
 The Son of Man has come eating and drinking, and you say, 'Look at him! A glutton and a drunkard, a friend of tax collectors and sinners!' (Luke 7: 34).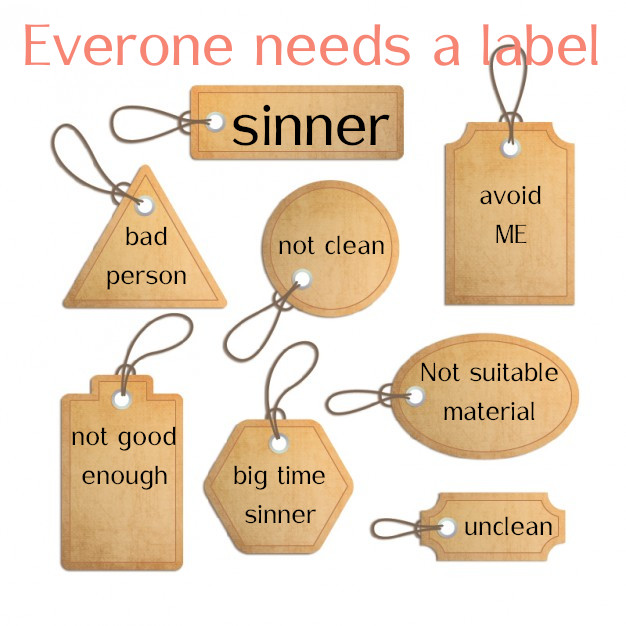 'Sinners' is a label, and of course a true description, but it can be easy to use labels. I doubt somehow if Jesus labelled people or saw them according to the label given. I suggest he was a friend of people, and cut across all the societal and religious labels. In the Lucan passage the next story is of Jesus being invited by one of those who specialised in labels (a Pharisee) and asked Jesus to come and eat with him. We read:
One of the Pharisees asked him to eat with him, and he went into the Pharisee's house and reclined at table.
He eats with people! Those with labels and those who can dish the labels out. While eating at Simon's house a 'woman who was a sinner' came in to the house. The interaction that follows is more than a little inappropriate by the custom of the day, and Simon is understandably offended, saying to himself that this woman is a 'sinner' and any prophet would have seen that, even if blindfolded. Two ways of seeing the person who has interrupted the meal – a 'sinner' or a 'woman'. Jesus asks the penetrating question:
Do you see this woman? (Luke 7:44)
Simon had only seen the woman, but in seeing the woman as a sinner he had not been able to see either the woman or the activity of God in his own front room.
Was Jesus the friend of sinners? Well he ate with the righteous and the unrighteous. He saw beyond labels.
The label put on Jesus, 'friend of sinners' is partially true, but one that if I attempt to follow him should be aimed at me too.
It is important who we eat with (angels are very interested in this but that is another topic) but it is more important how we eat with them. As friends.