This will not be a huge update on our little journey to the city of Madrid, but yesterday we finally had the property deeds in our name. We purchased the apartment on Dec. 27th, paid the property tax on Jan. 24th and that day the deeds should have had our name on it at the registry office… however having paid all the debts off on the property and gone through the whole legal process with the notary, we were informed that the title deeds could not be registered in our name due to a missing document. But the second visit to the rather impressive registry office (some 30 minutes on metro from the centre) secured the final piece of an interesting journey.
So a final copy of the escritura in our name photographed on top of the 'magic carpet' that we bought a while back: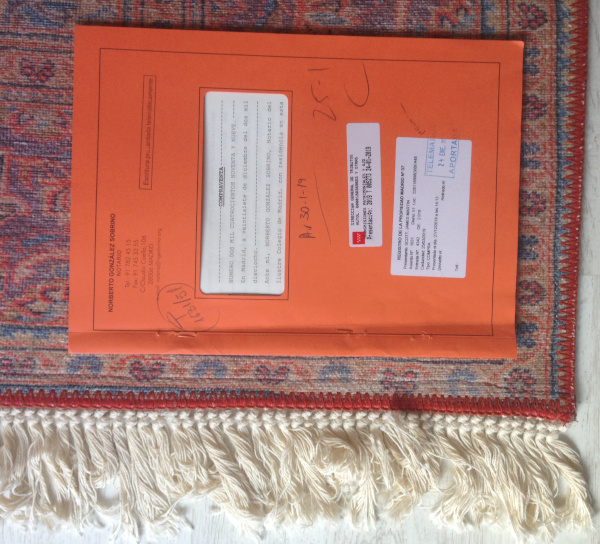 The magic carpet is something we bought a while back as someone prophesied to us that our entrance to Madrid would be on a magic carpet. We would not be in control… and that certainly has been true.
Another vision that was sent us was we were entering Madrid climbing up the inside of a sewer pipe, and in the course of our journey we have certainly had to contend with all kinds of interesting aspects.
But here we are!! I walked a little last night – Madrid you can be transformed was in my heart. One day – we will all shout 'por fin' when the small vision we have carried becomes visible in the 'new heavens and new earth'.
If anyone would like a more detailed aspect to our journey to Madrid, from the initial drive on November 25th, offer accepted Nov. 28th through to today I have written it up – just email me and I will get it to you.