It is always very interesting to be reading through the Bible. I focus much more on the Old Testament earlier on in the year when I do this, and in some of those readings there are so many challenges. Patriarchy is not only taken for granted but it seems to be endorsed as a good order. Genocide in the name of God… all there. Challenging to one's view of inspiration and of what we mean by the canon of Scripture. I would happily see some parts within the collection of 66 books be sidelined and to be excised! One book I would not be happy to see sidelined though would be the book of Revelation (the Apocalypse). Strange as that one does not make it into a number of the church canons, and even Luther who believed it should be included in the NT list of books also suggested it be segregated with other controversial books in a "disputed" section, of 'antilegomena'.
I did not grow up reading novels, and until recently did not enjoy many films (neither of those categories being 'real life'! As if I know what real life is….) However, employing genre so removed from real life, and written in a way that gives the likes of me few clues as to how to read it, I have loved the book of Revelation. (And definitely a much better read when the likes of Scofield, Darby, Lindsay, Left Behind are all kept way beyond arm's length.)
Imagery using such terms as beasts was not a new term for ancient readers. Babylon was not a new idea for Jewish believers. And Revelation really goes to town with such imagery and historical allusions. The (sea) beast of Revelation 13 was 'given a mouth' to speak, speaking for 42 months. 42 months is not a short time, and feels like forever. It is certainly much longer than some 15,000 days, it represents the time of conflict, being one of those 'rectangular' numbers in Revelation where it is the result of one number multiplied by one bigger than the first (here 6×7). Those numbers represent the times of conflict, so they are not referring to a specific length of time. Hence the voice can be louder at times than at others.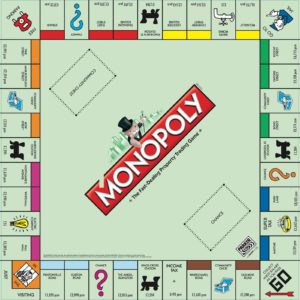 I have been very exercised in these days about the mouth that Mammon has, the voice that in Revelation will declare 'you cannot buy and sell'. We have heard that voice, we know many friends who have been spoken to by that intimidating voice, intimidating as there seems no way past it. The voice seems to speak and control a highway, that highway at times literally being the trade routes. I am also provoked as yesterday I had a Skype call with someone who engages with those who deal with money and can make huge differences to peoples' lives with the stroke of a pen. This person has a vision for societal transformation, and in engaging with companies his pitch is for their involvement in communities, with a twofold outcome: they will pour something back in for the betterment of others, and yet it will not mean they 'lose' out financially. The central focus though is the community issue. Over and over again they get excited by the vision, they are on board… until they work out that their bottom line just might be affected. Already making more than they need, they must make yet more, so again and again the vision my friend has is turned down. Sounds like a discouraging voice… but it is more than that, it is the voice of Mammon.
The 42 month period, the time when there is a loud voice speaking.
Money is a strange thing… I am not even sure what it is. The instability in the stock market yet again shows this – huge gains and losses. Maybe it is simply a measure of confidence that some exhibit. That 'some' being a minority of the population. If money was simply a mark of the confidence that some exhibit and that was all it was that might be OK, but it goes beyond that. It controls the destiny of people, and at a daily level who can buy and sell. We watched last night a program on the homelessness in Spain since 2008. A good number of whom were university graduates, and employed in 2008, meanwhile in the same country 40billion of public money can be unaccounted for in one year (2017). Money, a real entity? A measure of confidence? Or something standing behind it all?
Juan Mata, Spanish footballer, has his feet on the ground. Earning as these 'stars' do a huge sum of money he is provoking his fellow soccer players to donate 1% of their income into a foundation that can help channel that money positively. 1% of huge salaries is a large sum of money and I applaud him for this. That 1% is way more than a 10% of other money. Those actions are to be applauded. But…
The system remains.
What if Revelation was holding out the tantalising hope that we are here to see the system change? What if the Gospel is the announcement that mountains will be made low and valleys raised up? What if the body of Christ is truly 'elect in him' to the pulling down of strongholds and releasing a new way of being?
42 months. Patience marking the new apostolic. Applauding where 1% is placed in a foundation. But with a long term vision. A beast without a voice is intimidating, but a beast with a voice, that is at a different level all together.
In 2009 as clear as an audible voice I heard a challenge from heaven, that if those with significant financial resources were not stewarding their finances how was I going to do that? I am still on the journey toward that – I have certainly not made it through 42 months, not even sure I have made 24 hours into that journey, but I cam off the Skype yesterday with a small piece of the puzzle in my hand. I said to Gayle, we start relationaly. We connect. Not to the rich and famous, but to the ones and twos who dream of societal change, some of whom are not afraid of money nor success but neither of those commodities are the bottom line for them. The journey ahead is, of course, a corporate one. There needs to be eyes, hands and feet. The eyes cannot say… the feet cannot say… The beast is not confronted by a yet stronger beast. 42 months… and as always there has to be a human 'lamb', a people who find each other where no one takes the spot light, no one becomes the new controller of the resources, as if replacing the bad with the 'good person' would ever be the way to bring about change. An old centre is not to be replaced by a new, but good one, but as is evidenced in the breaking of bread and in Pentecost, a huge dispersal marks the shift.
Patience. Long term. Should not be surprising that is needed. This journey did not begin a few years ago with 1994 being such a turning point for many. It did not begin with a new perspective on Paul and his gospel… It certainly had major starting point in Jerusalem when the hegemony of religion (and 'good' religion at that) was broken. Those 42 months seem to stretch back a long way. What a diversity of voices have spoken in those 'months' and at times the voice of the beast has seemed the loudest. However, I don't think that s/he with the loudest voice wins!